Valle del Cauca's geostrategic location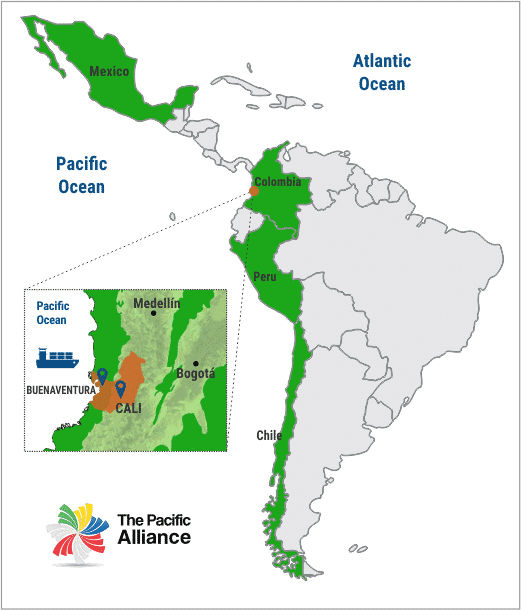 Valle del Cauca, located in the South west of Colombia upon the Pacific Ocean, it's the most cost-efficient region to provide goods to the national and international market. With the department is the most important port on the Colombian Pacific, Buenaventura, which allows the import and export to countries in America, Europe and Asia. From Valle del Cauca the Andean market can be served (124 million people), the Pacific Alliance (218 million people) and other regions, maximizing the commercial agreements with more than 60 countries.
Its proximity to more than 72% of the country's middle class and strategic location make Valle del Cauca the most cost-efficient region to serve the inner market.
In 2018, Valle del Cauca was recognized by Financial Times as one of the TOP 10 regions with the best FDI attraction strategy in Latin America, and in 2017 Cali, its capital, was recognized within the top 10 most cost-effective cities of the American continent and among the top 10 cities with the best Foreign Direct Investment (FDI) Attraction Strategy.
Valle del Cauca is within the same time zone (GMT-5) of countries like United States, Canada, Brazil and the whole Latin America, which enables it to timely serve the most important service markets.